Shirley pointed me out this amazingly great time waster!
So my roommate and I went ahead and took a couple pictures to use, and many laughs followed. If you don't take a good, straight-on photo, the results won't be that great.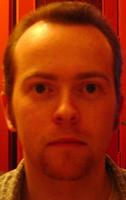 Click on my sexy mug to see my first set of pics (based on the above picture).
Then I got crazy, and still didn't want to study, so I created this monstrosity, comparing two new photos, with and without flash. Head over to my roommate's page to see his pics.
I have to study, this is ridiculous.
---
Information about this entry:
---